MisFit Kit
PRODUCT DESIGN
BRANDING
PACKAGING
REDESIGN OR INVENT A TOY OR PACKAGING THAT MINIMISES WASTE AND ENVIRONMENTAL IMPACT.

Misfit Kit reduces waste threefold: it repurposes old toys, reduces the need for the production of new toys, and has 0% packaging waste.

Misfit Kit is a product which repurposes discarded toys, enabling the creation of new toys from old.
It utilises a hand-mouldable thermoplastic (PCL) to attach ball joints onto toy parts, allowing any two toy parts to be joined together. The standardised joints allow the user to rearrange reuse or exchange parts however they choose.
The freedom of this process encourages the user to practice craft and creativity, and express their individuality with the toys they make.
HOW TO USE
1. Gather all your broken and unloved toys. Break them up.
2. Put the hand-moldable plastic in hot water to make it soft and malleable.
3. Envelop one end of the ball joint in the plastic.
4. Firmly press the now soft plastic onto a limb or toy part to attach it.
5. Repeat the process and attach the joints together to create your own Misfits.
IDENTITY

Misfit Kit is about creativity and finding new ways to play with old toys. The logo embodies this notion, resembling assorted toy parts as if a child had strewn the contents of their toybox across the floor and started piecing parts together.
PACKAGING
The pattern of toy parts embossed on the front of the box extends the metaphor of toys being spread out on the floor, ready for new toys to be made. The hexagonal shape references a nut, a symbol for building. When the bottom half has been removed, it resembles a toolbox.
CONTENTS

The kit contains handmouldable plastic pellets, ball joints, pigment dye, and two reclaimed toy parts to start the user off. The packaging is made from the thermoplastic PCL. When its no longer needed, it can be melted and used for creating more toys, meaning there is no waste packaging.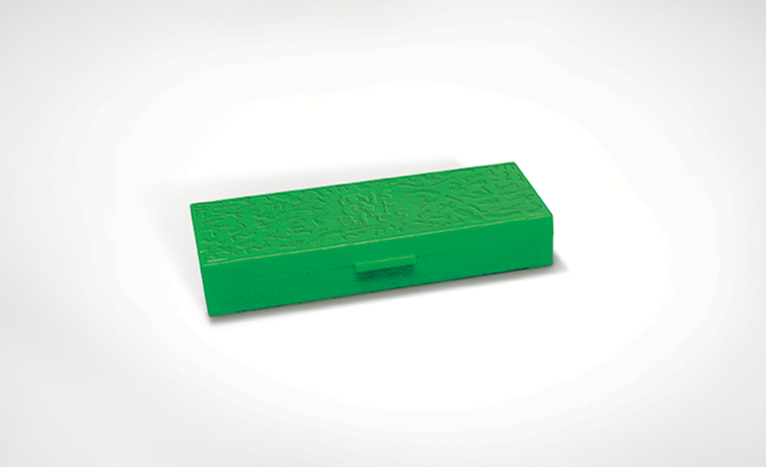 PREMADE PARTS
MisFit Bits is an extension of the brand providing a new product: preattached toy parts, so users don't have to craft them. The 'lucky dip' nature of this product adds a certain level of luck and excitement to the experience.
The case is made from the same thermoplastic, with a window so the user can choose the toy they purchase. The window is made from a clear bioplastic made from vegetable oil and can be composted.
MARKETING

The play park promotion replicates the sentiment behind the MisFit Kit, allowing the child to make their own toy. Placement of the advert is integral, a children's play park being an area with a high rate of target audience exposure; along with time for the child to examine it, rather than be led past an advert in a shop or street by their parent.