Anglepoise Chair
PRODUCT DESIGN
FABRICATION
ENGINEERING

BUILD A SOUND OR NOISE PRODUCING GIZMO. IT MUST HAVE AT LEAST 5 MOVING PARTS.

Q-ZHENG

Inspired by a Guzheng, a Chinese acoustic stringed instrument, we invented a mechanised instrument. Rather than having many strings like a Guzheng, we chose to have two very long strings strung through a series of pulleys in a 'flower' shape. This gives the same effect as having many strings, except they are all connected, allowing us to tension all the playable string lengths simultaneously.
We chose minimalist Japanese aesthetics, pairing light and dark woods, and choosing a geometric design for the sound holes which echoed and emphasised the strings' flower-shaped layout.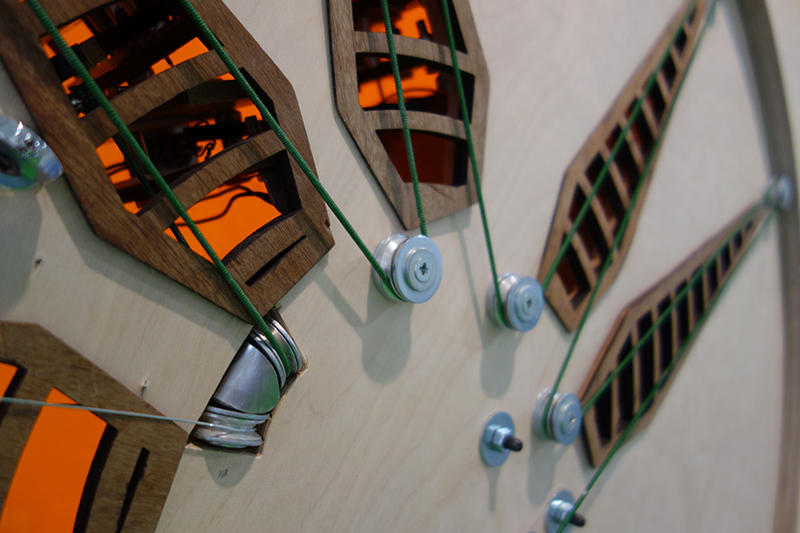 The instrument contains 19 motors, which are remotely controlled via a console powered by an Arduino. 18 of which are solenoids, which pull levers into striking the 16 different lengths of string.
Two more solenoids are used to control a bass and kick drum inside the body of the Q-zheng. 1 DC motor drives a worm and wheel gear, slightly rotating the front face which changes the tension of the strings, bending their pitch.
As the strings are all connected, the length between pulleys had to be very precise to ensure the playable lengths of string were in tune with each other.